This recipe is the perfect winter warmer. It contains loads of healthy fats and prebiotic, fibre rich ingredients which support healthy gut flora and overall colon health. Which means a healthier, happier you. It also has an abundance of digestion supporting herbs and spices such as caraway and coriander which are great at relieving excess gas and indigestion. Experiment with different types of wild caught fish and enjoy. 🙂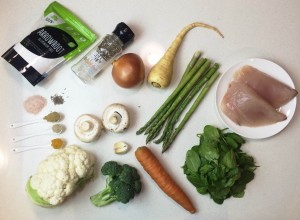 Ingredients
1 medium parsnip, chopped
½ head cauliflower, chopped
2 medium fillets of fish, cut into small chunks (snapper, barramundi, wild salmon or trout)
1 medium onion, chopped roughly
¼ cup mushrooms, sliced
1/2 cup asparagus, chopped into small pieces
½ cup spinach, chopped roughly
½ head small broccoli, chopped into small chunks
1 large carrot, chopped into small chunks
1 tbsp arrowroot (optional. Adds thickness to mixture)
1 tsp Himalayan salt
1 tsp cracked black pepper
½ tsp caraway seeds
½ tsp cardamom
1 tsp coriander ground
1 tsp turmeric
2 cloves garlic
2 tbsp ghee
1/4 cup bone broth or water
Method
Steam chopped parsnip and cauliflower until very soft.
Drain and remove all water.
Add 1 tbsp of ghee and blend into a smooth consistency using a hand held blender. Set aside for topping.
Pre-heat oven to 200 degrees.
Heat 1 tbsp ghee in a frying pan. Add herbs, spices, onions and garlic. Saute for 1 minute.
Add vegetables, fish, salt and pepper and continue to saute for 2 minutes.
Add broth and arrowroot and stir. Leave to saute at medium heat for 1 minute.
Pour vegetable and fish mixture into a baking dish.
Spread parsnip and cauliflower puree on top of vegetable and fish mixture.
Bake in oven for 30 minutes.
serves 2-3